Tapping Screws For Thin Gage Metal
This unique fastener extrudes thin sheet metal upward and downward, providing an increased area for threaded engagement and meeting U.L. requirements for grounding applications.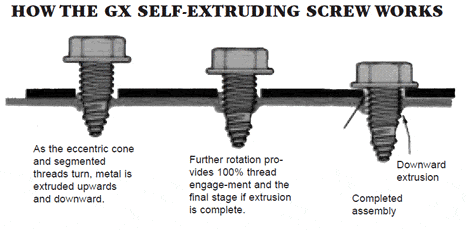 Grounding Ring
This under-head feature creates a positive ground by cutting through paint and other coatings. The scraped paint collects and seals around the grounding ring to effectively protect the unfinished surface and inhibit corrosion.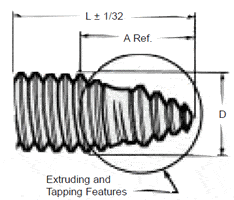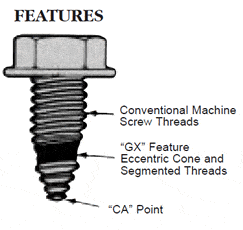 Ger-Nib Feature: For particularly torque-sensitive applications, torque-robbing Ger-Nib feature can be incorporated into the GX® screw head.
GX®-CA Specifications Dimensions In Inches
| SCREW SIZE | D | A | L-MIN. LENGTH – FLAT OVAL | L-MIN. LENGTH – OTHER HEADS | RECOMMENDED HOLE SIZE |
| --- | --- | --- | --- | --- | --- |
| 6-32 | .1400-.1326 | 1/4 | 1/2 | 3/8 | 0.08 |
| 8-32 | .1660-.1586 | 5/16 | 9/16 | 7/16 | 0.11 |
| 10-32 | .1920-.1846 | 3/8 | 5/8 | 1/2 | 0.14 |
| 1/4-20 | .2520-.2428 | 15/32 | 13/16 | 11/16 | 0.18 |