With an increased O.D., thickness and bearing area, this mil-spec split washer is ideal for heavier duty applications involving the application of higher tightening torques. The Heavy Section helical spring lock washer contributes significantly to the maintenance of tightness or tension in applications involving screws, bolts and nuts under high loads.
We also have Heavy Helical Spring Split Lockwashers.
Material

C/S = Carbon Steel
304 SS = Type 304 Stainless Steel
316 SS = Type 316 Stainless Steel
420 SS = Type 420 Stainless Steel
PHO = Phosphor Bronze
KM = K-Monel
Ordering Example: 1/4-HVY-SS is a 1/4 Heavy Stainless Steel.
Specify type when ordering.
Finish
PLN = Plain
CD1 = Cadmium & Clear Dichromate
CD2 = Cadmium & Yellow Dichromate
CD3 = Cadmium & Black Chromate
MZ1= Mechanical Zinc & Clear Dichromate
MZ2= Mechanical Zinc & Yellow Dichromate
ZN1 = Zinc & Clear Dichromate
ZN2 = Zinc & Yellow Dichromate
BKO = Black Oxide
PHO = Phosphate
HDG = Hot Dip Galvanized
MG = Mechanical Galvanized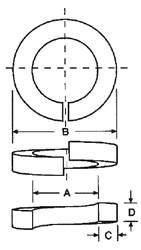 Nominal
Washer
Diameter
Inside
Diameter
A Min.
Inside
Diameter
A Max.
Outside
Diameter
B Max.
Width
C Min.
Thickness
D Min.
MS
514161
  1/4  
  .252  
  .260  
  .489  
  .110  
  .077  
1
  5/16  
  .314  
  .322  
  .583  
  .130  
  .097  
2
  1/2  
  .502  
  .512  
  .879  
  .176  
  .151  
3
1 – MS51416 has only 3 dash numbers which are in steel (C/S) Zinc2 (ZN2)