Easily installed, rugged latching device for metal cabinet doors and access panels. Snaps in place through panel front.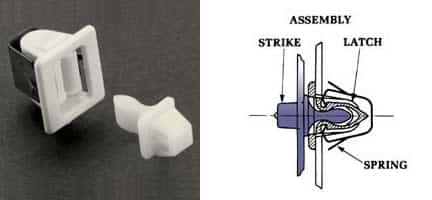 PART NUMBER
SPRING THICKNESS
HOLE SIZE (LATCH) PANEL RANGE
AVERAGE PUSH-IN PULL-OUT FORCES*
7800-01**
0.02
.515 x .656 RECT. HOLE
.035 TO .060 THK. PANEL
10 LBS.
Strike: Part No. 263-000006-00, designed to fit a .286-.291 sq. hole in a .032-.052 thick panel.
Material: Latch – Nylon 66, Spring – Metal, Strike – Celcon
*These push-in, pull-out forces are given only as a guideline. User should evaluate for specific applications.
**Part Number Change from 7800-00
NOTE: Dimensions listed are nominal.