139 / 750 Series Round-To-Round Tube Connectors
Plastic tube connectors for round or square tubing are a unique, low-cost fastening concept rigidly joining tubing to tubing or to wood. Plastic tube connectors eliminate the cost of welding. Tube connectors are designed for easy consumer assembly, and are used primarily for display racks, serving carts, TV stands, and other tubular products.
Specifications
Standard Color: Black
Standard Material: Butyrate
Available with threaded wedges in a variety of sizes.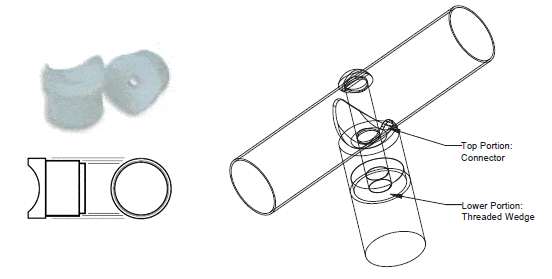 | PART NUMBER | WEDGE PART NO. | TUBE SIZE | TUBE GAUGE | MATERIAL | COLOR | |
| --- | --- | --- | --- | --- | --- | --- |
| 139NN-0143-0000 | 139NN-0142-0000 | 3/4″ | 18 | NYLON | NATURAL | |
| 750-1118 | – | 3/4″ | 18 | NYLON | NATURAL | |
| 139NN-0299-0000 | 139NN-0300-0000 | 1″ | 16 | NYLON | NATURAL | |
| 139NN-0281-0000 | 139NN-0282-0000 | 1″ | 18 | NYLON | NATURAL | |
| 750-1230 | – | 1″ | 20 | NYLON | NATURAL | |
| 139NN-0304-0000 | 139NN-0303-0000 | 1″ | 20 | NYLON | NATURAL | |
| 139NN-0354-0000 | 139NN-0353-0000 | 1-1/2″ | 16 | NYLON | NATURAL | |