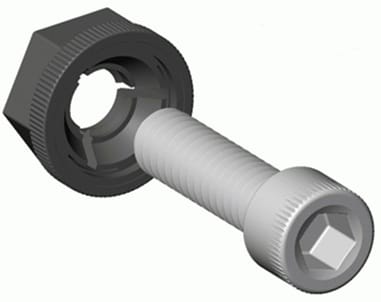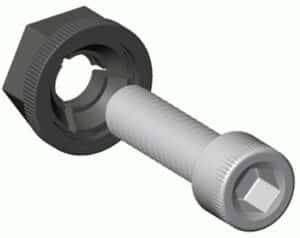 The Kwik-Nut (formally King Nut) is a plastic push-on spring nut. It can be pushed quickly onto any threaded bolt and tightened, either manually or with a simple installation tool.
Advantages
The Kwik-Nut is made from a thermoplastic material that is:
A significantly better damping material for acoustic areas
Non-corrosive
Non-conductive
Fitting
In contrast to conventional nuts, the Kwik-Nut nut is simply pushed on and then turned approximately 180 degrees to tighten.Assembly time is reduced 50% or more compared to conventional nuts.
The Kwik-Nut nut is designed to accommodate problem-free automated assembly.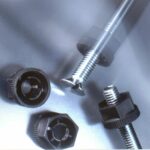 Weight Savings
Made of thermoplastic material, the Kwik-Nut nut is considerably lighter than its steel equivalent.With its larger base and greater elasticity, the Kwik-Nut distributes load over a greater area, making it possible to use lighter weight components and eliminating the need to reinforce the clamping area.
Dynamic Load
The revolutionary mechanical design of the Kwik-Nut fastener provides a vibration-resistant, self-locking capability not found in conventional steel nuts.The gripping action of the nut increases with increasing vibration loads.
Standard Deviations
Kwik-Nut nut dimensions are larger than conventional nuts with the same I.D.The nut has a single thread divided into three segments.The width across flats is that of the next largest standard nut.Table 1 shows a comparison of across flats (A/F) dimensions for a standard nut and a Kwik-Nut nut.
Material and Colors
The standard KINGNUT nut is made from a commercial type 6.6 polymide. It is stocked in black but can be produced in other standard colors on request.The thermoplastic material can be engineered for greater hardness or greater resiliency to meet specific application needs.
Please contact us with your specific requirements.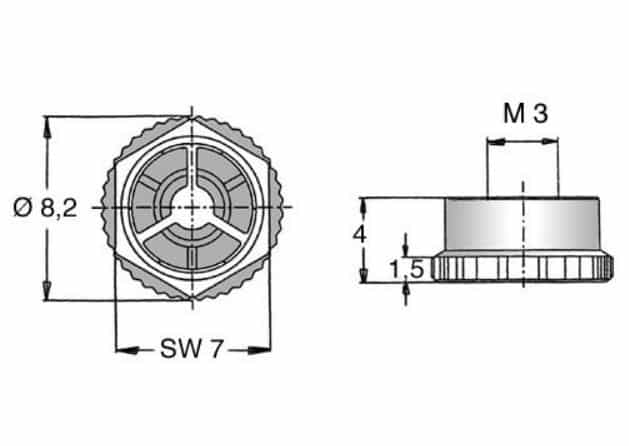 Partial List of Applications:
Panel Assemblies
Furniture Assemblies
Testing and Measurement Equipement
Fluorescent Lighting
Electronic Assemblies
Toys
Air Conditioning & Ventilating Equipment
Automobile Interior Assemblies
| Part Number | Thread Size | A | B | C |
| --- | --- | --- | --- | --- |
| KN30 | M3 | 4.0 | 7.0 | 8.2 |
| KN40 | M4 | 4.7 | 8.0 | 9.4 |
| KN50 | M5 | 5.8 | 10.0 | 11.7 |
| KN60 | M6 | 7.0 | 13.0 | 15.2 |
| KN80 | M8 | 8.5 | 17.0 | 19.9 |