With a further increase in O.D., thickness and bearing area, the Mil-Spec Extra-Duty (Extra Heavy) helical spring spilt lock washer absorbs exceptionally high torques and retains tension under heavy loads. WCL also refers to these as Extra Heavy (EH).
We also have Extra-Duty (Extra Heavy) Helical Spring Spilt Lockwashers.
Material

C/S = Carbon Steel
304 SS = Type 304 Stainless Steel
316 SS = Type 316 Stainless Steel
420 SS = Type 420 Stainless Steel
PHO = Phosphor Bronze
KM = K-Monel
Ordering Example: MS35340-42 is a #8 Extra Duty, Carbon Steel, with a Mechanical Zinc & Yellow Dichromate finish.
#1/4 EH C/S L/W MZ1 is a 1/4 Extra Duty Carbon Steel Lockwasher with a Mechanical Zinc finish.
Finish
PLN = Plain
CD1 = Cadmium & Clear Dichromate
CD2 = Cadmium & Yellow Dichromate
CD3 = Cadmium & Black Chromate
MZ1= Mechanical Zinc & Clear Dichromate
MZ2= Mechanical Zinc & Yellow Dichromate
ZN1 = Zinc & Clear Dichromate
ZN2 = Zinc & Yellow Dichromate
BKO = Black Oxide
PHO = Phosphate
HDG = Hot Dip Galvanized
MG = Mechanical Galvanized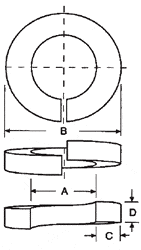 Nominal
Washer
Size
Inside Diameter
A
Min.
Inside Diameter
A
Max.
Outside
Diameter
B
Width
C
Thickness
D
MS 35340 Dash Numbers1
Steel Finish
MZ2 or CD2
  2  
  .088  
  .094  
  .208  
  .053  
  .027  
39
  4  
  .114  
  .120  
  .253  
  .062  
  .034  
40
  6  
  .141  
  .148  
  .314  
  .079  
  .045  
41
  8  
  .167  
  .174  
  .375  
  .096  
  .057  
42
  10  
  .193  
  .200  
  .434  
  .112  
  .068  
43
  1/4  
  .252  
  .260  
  .533  
  .132  
  .084  
44
  5/16  
  .314  
  .322  
  .619  
  .143  
  .108  
45
  3/8  
  .377  
  .385  
  .738  
  .170  
  .123  
46
  7/16  
  .440  
  .450  
  .836  
  .186  
  .143  
47
  1/2  
  .502  
  .512  
  .935  
  .204  
  .162  
48
  9/16  
  .564  
  .574  
  1.035  
  .223  
  .182  
49
  5/8  
  .628  
  .641  
  1.151  
  .242  
  .202  
50
  3/4  
  .753  
  .766  
  1.355  
  .279  
  .241  
51
  7/8  
  .878  
  .894  
  1.571  
  .322  
  .285  
52
  1  
  1.003  
  1.024  
  1.794  
  .366  
  .330  
53
  1-1/8  
  1.129  
  1.153  
  2.013  
  .411  
  .375  
54
  1-1/4  
  1.254  
  1.280  
  2.222  
  .452  
  .417  
55
  1-3/8  
  1.397  
  1.408  
  2.429  
  .491  
  .458  
56
  1-1/2  
  1.504  
  1.534  
  2.627  
  .526  
  .496  
57
1 – MS51416 has only 3 dash numbers which are in steel (C/S) Zinc2 (ZN2)