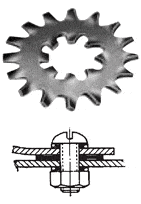 Specifications: All commercial and military tooth lockwashers supplied by WCL Company and listed on these pages conform to
ASME B18.21.1 and to all applicable specifications as reported by IFI.
Use where large bearing surface is desired.
Use to span oversized or elongated holes.
Use as insert between two adjustable pieces to maintain their position after original setting.
Ideal for electrical bonding.
Steel parts are available plain or with a zinc .00015″ standard finish. Other materials and finishes available on request.
Nominal
Washer
Size
Hole Dia. Min.
Hole Dia. Max.
Outside Dia. Min.
Outside Dia. Max.
Thickness
WCL Part
Numbers
Cross
Reference
MS45904 Steel
Plated
4
0.115
0.123
0.46
0.475
0.017
EIT-0112-12-01
4004-12-01
-51
6
0.141
0.15
0.495
0.51
0.025
EIT-0138-14-00
4006-14-00
-54
8
0.168
0.176
0.494
0.506
0.025
EIT-0164-14-00
4008-14-00
8
0.168
0.176
0.58
0.61
0.029
EIT-0164-18-00
4008-18-00
-57
8
0.168
0.176
0.68
0.695
0.029
EIT-0164-20-01
4008-20-01
-58
8
0.168
0.176
0.74
0.76
0.029
EIT-0164-22-01
4008-22-01
-59
10
0.195
0.204
0.494
0.506
0.025
EIT-0190-14-00
4010-14-00
10
0.195
0.204
0.58
0.61
0.029
EIT-0190-18-00
4010-18-00
-60
10
0.195
0.204
0.68
0.695
0.035
EIT-0190-20-01
4010-20-01
-61
10
0.195
0.204
0.74
0.76
0.035
EIT-0190-22-00
4010-22-00
-62
10
0.195
0.204
0.882
0.898
0.035
EIT-0190-24-00
4010-24-00
-63
12
0.221
0.231
0.67
0.69
0.035
EIT-0216-20-00
4012-20-00
12
0.221
0.231
0.74
0.76
0.035
EIT-0216-22-00
4012-22-00
12
0.221
0.231
0.882
0.898
0.035
EIT-0216-24-00
4012-24-00
1/4
0.256
0.267
0.68
0.685
0.035
EIT-0250-20-00
4014-20-00
1/4
0.256
0.267
0.725
0.76
0.035
EIT-0250-22-00
4014-22-00
-68
1/4
0.256
0.267
0.882
0.898
0.035
EIT-0250-24-00
4014-24-00
-69
1/4
0.256
0.267
0.882
0.898
0.045
EIT-0250-24-01
4014-24-01
1/4
0.256
0.267
0.965
0.985
0.039
EIT-0250-00-01
4014-00-01
-70
1/4
0.256
0.267
1.045
1.07
0.039
EIT-0250-28-00
4014-28-00
-71
5/16
0.32
0.332
0.865
0.9
0.035
EIT-0312-24-00
4018-24-00
-72
5/16
0.32
0.332
0.965
0.985
0.039
EIT-0312-26-00
4018-26-00
-73
5/16
0.32
0.332
1.045
1.07
0.045
EIT-0312-28-00
4018-28-00
-74
5/16
0.323
0.337
1.24
1.26
0.05
EIT-0312-32-00
4018-32-00
3/8
0.384
0.398
0.965
0.985
0.039
EIT-0375-26-00
4020-26-00
-76
3/8
0.384
0.398
0.965
0.985
0.05
EIT-0375-26-01
4020-26-01
3/8
0.384
0.398
1.045
1.07
0.045
EIT-0375-28-00
4020-28-00
-77
3/8
0.384
0.398
1.24
1.26
0.05
EIT-0375-32-00
4020-32-00
-79
7/16
0.448
0.464
1.045
1.07
0.045
EIT-0437-28-00
4022-28-00
7/16
0.448
0.463
1.13
1.155
0.045
EIT-0437-30-00
4022-30-00
7/16
0.448
0.463
1.24
1.26
0.05
EIT-0437-32-00
4022-32-00
1/2
0.512
0.53
1.22
1.26
0.05
EIT-0500-32-00
4024-32-00*
-84
1/2
0.512
0.529
1.38
1.41
0.055
EIT-0500-34-00
4024-34-00
-86
1/2
0.512
0.529
1.59
1.62
0.062
EIT-0500-36-00
4024-36-00
9/16
0.576
0.596
1.38
1.43
0.055
EIT-0562-34-00
4026-34-00
5/8
0.64
0.663
1.38
1.41
0.055
EIT-0625-35-00
4028-34-00
5/8
0.64
0.659
1.59
1.62
0.062
EIT-0625-36-00
4028-36-00
-93
* Also available in Type B