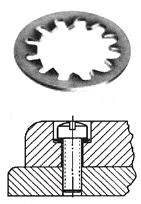 Materials: Part numbers shown are for washers made of spring steel. These washers are also available in bronze and bronze alloy and in 400 series stainless steel. Many of these are in stock at WCL. Washers can also be pro­duced from 300 series stainless steel and other materials on request. Specify material when inquiring or ordering.
Specifications: All commercial and military tooth lockwashers supplied by WCL Company and listed on these pages conform to ASME B18.21.1 and to all applicable specifications as reported by IFI.
Work best with smaller screw heads (such as fillister heads).
Use where appearance warrants that teeth be hidden.
Use where snagging or scratching could be a problem.
Internal teeth lock into bolt head or nut to prevent backoff rotation.
Nominal
Washer
Size
Hole
Diameter
Min.
Hole
Diameter
Max.
Outside
Diameter
Min.
Outside
Diameter
Max.
Thickness
WCL Part
Number
Cross
Reference
Steel Plated
MS35333
Stainless Steel
MS35333
Bronze Alloy
MS35333
2
0.089
0.095
0.175
0.2
0.013
INT-0086-00-00
1202-00
-35
-69
-103
2
0.089
0.096
0.175
0.185
0.007
INT-0086-01-00
1202-01
2
0.094
0.098
0.175
0.185
0.013
INT-0086-04-00
1202-04
3
0.102
0.109
0.215
0.232
0.015
INT-0099-00-00
1203-00
3
0.106
0.109
0.215
0.225
0.013
INT-0099-00-00
1203-01
4
0.115
0.123
0.255
0.27
0.015
INT-0112-00-00
1204-00
-36
-70
-104
4
0.116
0.123
0.215
0.225
0.015
INT-0112-03-00
1204-03
5
0.129
0.136
0.245
0.28
0.017
INT-0125-00-00
1205-00
5
0.124
0.128
0.215
0.225
0.017
INT-0125-08-00
1205-08
6
0.141
0.15
0.275
0.295
0.017
INT-0138-00-00
1206-00
-37
-71
-105
6
0.142
0.15
0.245
0.255
0.017
INT-0138-01-00
1206-01
6
0.146
0.151
0.275
0.285
0.018
INT-0138-05-00
1206-05
6
0.142
0.15
0.307
0.317
0.025
INT-0138-06-00
1206-06
6
0.142
0.15
0.278
0.288
0.013
INT-0138-07-00
1206-07
8
0.168
0.176
0.325
0.34
0.02
INT-0164-00-00
1208-00
-38
-72
-106
8
0.168
0.176
0.325
0.336
0.025
INT-0164-01-00
1208-01
8
0.168
0.176
0.3
0.311
0.02
INT-0164-05-00
1208-05
8
0.168
0.176
0.325
0.336
0.01
INT-0164-06-00
1208-06
8
0.168
0.176
0.494
0.506
0.017
INT-0164-08-00
1208-08
8
0.166
0.17
0.275
0.285
0.02
INT-0164-11-00
1208-11
8
0.165
0.169
0.278
0.288
0.018
INT-0164-12-00
1208-12
10
0.195
0.204
0.365
0.381
0.022
INT-0190-00-00
1210-00
-39
-73
-107
10
0.195
0.204
0.495
0.505
0.025
INT-0190-01-00
1210-01
10
0.188
0.194
0.593
0.607
0.029
INT-0190-03-02
1210-03
10
0.195
0.204
0.3
0.311
0.017
INT-0190-06-00
1210-06
10
0.195
0.204
0.37
0.381
0.01
INT-0190-07-00
1210-07
10
0.195
0.204
0.743
0.758
0.02
INT-0190-10-00
1210-10
10
0.204
0.21
0.3
0.311
0.017
INT-0190-15-00
1210-15
12
0.221
0.231
0.394
0.41
0.022
INT-0216-00-00
1212-00
12
0.218
0.222
0.372
0.383
0.017
INT-0216-03-00
1212-03
12
0.218
0.222
0.372
0.383
0.022
INT-0216-08-00
1212-04
1/4
0.256
0.267
0.466
0.478
0.025
INT-0250-00-00
1214-00
-40
-74
-108
1/4
0.256
0.267
0.555
0.565
0.025
INT-0250-01-00
1214-01
1/4
0.256
0.267
0.396
0.408
0.017
INT-0250-05-00
1214-05
-125
-135
-145
1/4
0.256
0.267
0.466
0.478
0.025
INT-0250-06-00
1214-06*
1/4
0.256
0.267
0.806
0.818
0.025
INT-0250-07-00
1214-07
1/4
0.256
0.267
0.618
0.632
0.025
INT-0250-09-00
1214-09
1/4
0.256
0.267
0.396
0.408
0.025
INT-0250-10-00
1214-10
1/4
0.256
0.267
0.396
0.408
0.013
INT-0250-11-00
1214-11
1/4
0.256
0.267
0.618
0.632
0.029
INT-0250-12-00
1214-12
1/4
0.256
0.267
0.595
0.615
0.022
INT-0250-14-00
1214-14
1/4
0.252
0.256
0.396
0.408
0.017
INT-0250-15-00
1214-15
16
0.285
0.296
0.494
0.506
0.029
INT-0281-01-00
1216-01
5/16
0.32
0.332
0.594
0.61
0.029
INT-0312-00-00
1218-00
-41
-75
-109
5/16
0.314
0.322
0.425
0.435
0.022
INT-0312-02-00
1218-02
5/16
0.314
0.322
0.425
0.435
0.015
INT-0312-04-00
1218-04
5/16
0.32
0.332
0.74
0.76
0.045
INT-0312-05-00
1218-05
3/8
0.384
0.398
0.67
0.692
0.035
INT-0375-00-00
1220-00
-42
-76
-110
3/8
0.384
0.398
0.678
0.692
0.022
INT-0375-01-00
1220-01
3/8
0.377
0.391
0.493
0.507
0.022
INT-0375-02-00
1220-02
3/8
0.405
0.415
0.678
0.692
0.022
INT-0375-04-00
1220-04
3/8
0.38
0.387
0.557
0.567
0.017
INT-0375-05-00
1220-05†
3/8
0.384
0.398
1.147
1.166
0.035
INT-0375-06-00
1220-06
3/8
0.41
0.425
0.595
0.615
0.022
INT-0375-08-00
1220-08
3/8
0.38
0.387
0.557
0.567
0.025
INT-0375-10-00
1220-10†
3/8
0.38
0.387
0.557
0.567
0.02
INT-0375-13-00
1220-13†
3/8
0.395
0.4
0.733
0.747
0.039
INT-0375-14-00
1220-14
3/8
0.377
0.391
0.595
0.615
0.022
INT-0375-15-00
1220-15
7/16
0.448
0.464
0.74
0.789
0.035
INT-0437-00-00
1222-00
-43
-77
-111
7/16
0.472
0.48
0.593
0.607
0.017
INT-0437-01-00
1222-01†
-126
-136
-146
7/16
0.439
0.442
0.533
0.547
0.022
INT-0437-04-00
1222-04
7/16
0.448
0.463
0.774
0.789
0.02
INT-0437-05-00
1222-05
7/16
0.472
0.48
0.593
0.607
0.022
INT-0437-09-00
1222-09†
7/16
0.448
0.463
0.593
0.607
0.017
INT-0437-13-00
1222-13
1/2
0.512
0.53
0.867
0.9
0.039
INT-0500-00-00
1224-00
-44
-78
-113
1/2
0.505
0.512
0.62
0.63
0.02
INT-0500-02-00
1224-02†
1/2
0.512
0.529
0.867
0.883
0.039
INT-0500-03-00
1224-03
1/2
0.545
0.56
0.765
0.785
0.025
INT-0500-06-00
1224-06
1/2
0.512
0.529
0.774
0.789
0.035
INT-0500-07-00
1224-07
1/2
0.512
0.529
0.774
0.789
0.01
INT-0500-08-00
1224-08
1/2
0.545
0.56
0.765
0.785
0.03
INT-0500-10-00
1224-10
1/2
0.505
0.512
0.62
0.63
0.013
INT-0500-12-00
1224-12†
1/2
0.52
0.53
0.733
0.747
0.029
INT-0500-14-00
1224-14
9/16
0.576
0.596
0.957
0.985
0.039
INT-0562-00-00
1226-00
9/16
0.575
0.585
0.763
0.777
0.029
INT-0562-03-00
1226-03
9/16
0.565
0.572
0.678
0.692
0.017
INT-0562-07-00
1226-07
-127
-137
-147
9/16
0.575
0.585
0.763
0.777
0.015
INT-0562-08-00
1226-08
5/8
0.64
0.663
1.045
1.071
0.045
INT-0625-00-00
1228-00
-46
-80
-115
5/8
0.64
0.659
1.053
1.071
0.022
INT-0625-01-00
1228-01
5/8
0.64
0.659
0.867
0.883
0.022
INT-0625-02-00
1228-02
5/8
0.69
0.7
0.945
0.968
0.029
INT-0625-03-00
1228-03
5/8
0.64
0.659
1.053
1.071
0.045
INT-0625-04-00
1228-04*
5/8
0.64
0.659
0.867
0.883
0.022
INT-0625-05-00
1228-05*
5/8
0.625
0.63
0.774
0.789
0.02
INT-0625-06-00
1228-06
5/8
0.64
0.659
0.945
0.965
0.045
INT-0625-07-00
1228-07
11/16
0.704
0.728
1.13
1.166
0.045
INT-0687-00-00
1230-00
3/4
0.769
0.795
1.22
1.245
0.05
INT-0750-00-00
1232-00
-47
-81
-116
3/4
0.769
0.795
1.22
1.245
0.025
INT-0750-03-00
1232-03
3/4
0.757
0.76
1.047
1.077
0.022
INT-0750-04-00
1232-04
3/4
0.775
0.785
1.047
1.077
0.022
INT-0750-07-00
1232-07
-129
-139
-149
3/4
0.79
0.8
1.22
1.245
0.05
INT-0750-08-00
1232-08
3/4
0.757
0.76
1.047
1.077
0.022
INT-0750-12-00
1232-12†
13/16
0.832
0.861
1.29
1.315
0.05
INT-0812-00-00
1233-00
13/16
0.832
0.856
1.047
1.386
0.05
INT-0812-03-00
1233-03
13/16
0.86
0.87
1.365
1.386
0.05
INT-0812-04-00
1233-04
7/8
0.894
0.927
1.364
1.41
0.055
INT-0875-00-00
1234-00
-48
-82
-117
7/8
0.894
0.918
1.364
1.386
0.025
INT-0875-01-00
1234-01
7/8
0.88
0.89
1.08
1.11
0.02
INT-0875-04-00
1234-04
7/8
0.894
0.918
1.364
1.386
0.02
INT-0875-05-00
1234-05
15/16
0.985
1.015
1.36
1.39
0.029
INT-0937-02-00
1235-02
1
1.019
1.06
1.59
1.637
0.062
INT-1000-00-00
1236-00
-49
-83
-118
1
1.01
1.02
1.36
1.39
0.025
INT-1000-05-00
1236-05
1 1/8
1.144
1.192
1.799
1.83
0.062
INT-1125-00-00
1238-00
1 1/8
1.163
1.175
1.425
1.45
0.015
INT-1125-04-00
1238-04
1 1/8
1.163
1.175
1.425
1.45
0.025
INT-1125-08-00
1238-08
1 3/16
1.206
1.231
1.799
1.825
0.03
INT-1187-02-00
1239-02
1 1/4
1.26
1.28
1.921
1.95
0.062
INT-1250-01-00
1240-01
-51
-85
-120
1 1/4
1.26
1.28
1.799
1.825
0.025
INT-1250-02-00
1240-02
1 5/16
1.331
1.356
1.921
1.95
0.062
INT-1312-00-00
1241-00
1 3/8
1.394
1.418
1.92
1.95
0.062
INT-1375-00-00
1242-00
1 3/8
1.394
1.418
1.92
1.95
0.03
INT-1375-01-00
1242-01
1 1/2
1.5
1.53
2.485
2.515
0.078
INT-1500-00-00
1244-00
1 1/2
1.5
1.53
2.485
2.515
0.055
INT-1500-01-00
1244-01
1 5/8
1.63
1.645
1.797
1.827
0.015
INT-1625-02-00
1246-02
1 5/8
1.668
1.644
2.267
2.233
.062
INT-1625-01-00
1246-01
1 3/4
1.75
1.78
2.625
2.655
0.078
INT-1750-00-00
1248-00
1 3/4
1.768
1.79
2.219
2.281
0.029
INT-1750-01-00
1248-01
1 3/4
1.75
1.78
2.61
2.64
0.055
INT-1750-02-00
1248-02
1 7/8
1.875
1.905
2.495
2.545
0.078
INT-1875-00-00
1250-00
1 15/16
1.938
1.968
2.61
2.64
0.078
INT-1937-00-00
1251-00
2
2.01
2.03
2.865
2.9
0.062
INT-2000-01-00
1252-01
2
2.015
2.03
2.47
2.5
0.025
INT-2000-02-00
1252-02
2 1/2
2.49
2.51
2.985
3.015
0.078
INT-2500-01-00
1260-01
* Left Hand Twist
† Alternate Tooth Twist