The tension generated by the deflection of the Regular helical spring split lock washer meets the needs of most commercial applications. It is, therefore, the most popular type spring lock washer in terms of usage and production. Our lockwashers are made in the USA. They meet all ASME standards in addition to RoHS and DFARS compliance when required.
We also have Mil-Spec Helical Spring Split Lockwashers.
Material

C/S = Carbon Steel
304 SS = Type 304 Stainless Steel
316 SS = Type 316 Stainless Steel
420 SS = Type 420 Stainless Steel
PHO = Phosphor Bronze
KM = K-Monel
Ordering Example: #6-REG-C/S-MZ2 is a
#6 Regular carbon Steel with a
Mechanical Zinc & Yellow Dichromate finish.
Finish
PLN = Plain
CD1 = Cadmium & Clear Dichromate
CD2 = Cadmium & Yellow Dichromate
CD3 = Cadmium & Black Chromate
MZ1= Mechanical Zinc & Clear Dichromate
MZ2= Mechanical Zinc & Yellow Dichromate
ZN1 = Zinc & Clear Dichromate
ZN2 = Zinc & Yellow Dichromate
BKO = Black Oxide
PHO = Phosphate
HDG = Hot Dip Galvanized
MG = Mechanical Galvanized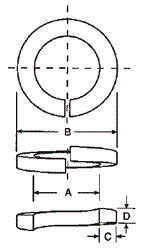 Nominal
Washer
Diameter
Inside
Diameter
A Min.
Inside
Diameter
A Max.
Outside
Diameter
B Max.
Width
C Min.
Thickness
D Min.
WCL Steel
Product Number
WCL Stainless
Product Number
WCL Bronze
Product Number
0
0.062
0.071
0.123
0.022
0.022
#0-REG-C/S
#0-REG-SS
#0-REG-BRZ
1
0.075
0.084
0.162
0.035
0.02
#1-REG-C/S
#1-REG-SS
#1-REG-BRZ
2
0.088
0.094
0.172
0.035
0.02
#2-REG-C/S
#2-REG-SS
#2-REG-BRZ
3
0.101
0.107
0.195
0.04
0.025
#3-REG-C/S
#3-REG-SS
#3-REG-BRZ
4
0.114
0.12
0.209
0.04
0.025
#4-REG-C/S
#4-REG-SS
#4-REG-BRZ
5
0.127
0.133
0.236
0.047
0.031
#5-REG-C/S
#5-REG-SS
#5-REG-BRZ
6
0.141
0.148
0.25
0.047
0.031
#6-REG-C/S
#6-REG-SS
#6-REG-BRZ
8
0.167
0.174
0.293
0.055
0.04
#8-REG-C/S
#8-REG-SS
#8-REG-BRZ
10
0.193
0.2
0.334
0.062
0.047
#10-REG-C/S
#10-REG-SS
#10-REG-BRZ
12
0.22
0.227
0.377
0.07
0.056
#12-REG-C/S
#12-REG-SS
#12-REG-BRZ
1/4
0.252
0.26
0.487
0.109
0.062
1/4-REG-C/S
1/4-REG-SS
1/4-REG-BRZ
5/16
0.314
0.322
0.583
0.125
0.078
5/16-REG-C/S
5/16-REG-SS
5/16-REG-BRZ
3/8
0.377
0.385
0.68
0.141
0.094
3/8-REG-C/S
3/8-REG-SS
3/8-REG-BRZ
7/16
0.44
0.45
0.776
0.156
0.109
7/16-REG-C/S
7/16-REG-SS
7/16-REG-BRZ
1/2
0.502
0.512
0.869
0.171
0.125
1/2-REG-C/S
1/2-REG-SS
1/2-REG-BRZ
9/16
0.564
0.574
0.965
0.188
0.141
9/16-REG-C/S
9/16-REG-SS
9/16-REG-BRZ
5/8
0.628
0.641
1.073
0.203
0.156
5/8-REG-C/S
5/8-REG-SS
5/8-REG-BRZ
11/16
0.691
0.704
0.17
0.219
0.172
11/16-REG-C/S
11/16-REG-SS
11/16-REG-BRZ
3/4
0.753
0.766
1.265
0.234
0.188
3/4-REG-C/S
3/4-REG-SS
3/4-REG-BRZ
7/8
0.878
0.894
1.459
0.266
0.219
7/8-REG-C/S
7/8-REG-SS
7/8-REG-BRZ
1
1.003
1.024
1.656
0.297
0.25
1-REG-C/S
1-REG-SS
1-REG-BRZ
1.125
1.129
1.153
1.847
0.328
0.281
1-1/8-REG-C/S
1-1/8-REG-SS
1-1/8-REG-BRZ
1.25
1.254
1.28
2.036
0.359
0.312
1-1/4-REG-C/S
1-1/4-REG-SS
1-1/4-REG-BRZ
1.375
1.397
1.408
2.219
0.391
0.344
1-3/8-REG-C/S
1-3/8-REG-SS
1-3/8-REG-BRZ
1.4375
1.442
1.472
2.324
0.406
0.359
1-7/16-REG-C/S
1-7/16-REG-SS
1-7/16-REG-BRZ
1.5
1.504
1.534
2.419
0.422
0.375
1-1/2-REG-C/S
1-1/2-REG-SS
1-1/2-REG-BRZ
1.625
1.633
1.663
2.553
0.424
0.389
1-5/8-REG-C/S
1-5/8-REG-SS
1-5/8-REG-BRZ
1.75
1.758
1.789
2.679
0.424
0.389
1-3/4-REG-C/S
1-3/4-REG-SS
1-3/4-REG-BRZ
1.875
1.883
1.914
2.811
0.427
0.422
1-7/8-REG-C/S
1-7/8-REG-SS
1-7/8-REG-BRZ
2
2.008
2.039
2.936
0.427
0.422
2-REG-C/S
2-REG-SS
2-REG-BRZ
2.25
2.262
2.293
3.221
0.442
0.44
2-1/4-REG-C/S
2-1/4-REG-SS
2-1/4-REG-BRZ
2.5
2.512
2.543
3.471
0.442
0.44
2-1/2-REG-C/S
2-1/2-REG-SS
2-1/2-REG-BRZ
2.75
2.762
2.793
3.824
0.491
0.458
2-3/4-REG-C/S
2-3/4-REG-SS
2-3/4-REG-BRZ
3
3.012
3.043
4.074
0.491
0.458
3-REG-C/S
3-REG-SS
3-REG-BRZ