Wide Rim Retainers Slotted Internal Tooth
Wide Rim Shaft Retainers securely hold unthreaded shafts or rods while distributing holding force over wide area to protect soft or fragile bearing surfaces. Also effectively span oversize or elongated holes.
When pushed down over unthreaded studs,Wide Rim Retainers set up a strong strut action that requires a pull-off force 10 to 20 times greater than the force required to seat them. Typical stud or shaft materials are steel, plastic, zinc diecast and brass.
Wide Rim Shaft Retainers are widely used on toys, lawn and garden equipment, automotive interiors and exteriors, motors, hand tools, etc.
SHAFT SIZE
DESIGN
+/- .002
WCL
PART
NUMBER
INSIDE
DIAMETER
B
MIN.
INSIDE
DIAMETER
B
MAX.
OUTSIDE
DIAMETER
A
NOM.
HEIGHT
(REF.)
MATERIAL
THICKNESS
0.158
8065-16-00
0.142
0.148
0.472
0.055
0.012
0.236
8065-23-00
0.22
0.226
0.531
0.072
0.017
0.311
8065-31-00
0.295
0.301
0.626
0.071
0.02
Other Wide Rim Shaft Retainers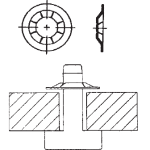 PALNUT#
CREST #
STUD SIZE
O.D.
MATERIAL
THICKNESS
PS125306
1/8
3/8
0.01
PS125006
P12537-13
1/8
3/8
0.013
PD156007
P15643-13
5/32
7/16
0.013
PS188307
P18843-10
316
7/16
0.01
PS188007
P18843-15
3/16
7/16
0.014
PS250385
1/4
17/32
0.012
PS250085
P25053-17
1/4
17/32
0.016
PS312310
P31262-15
5/16
5/8
0.014
PS312010
P31262-21
5/16
5/8
0.021
PS375312
P37575-17
3/8
3/4
0.017
PS375012
P37575-25
3/8
3/4
0.026
PS438014
7/16
7/8
0.03
PS500016
1/2
1
0.035