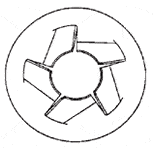 These economical, easily installed retainers are ideal for the many applications where it is necessary to position and securely retain a bolt or screw until a nut is applied at a later stage to complete the assembly.
When a nut is applied and tightened down,the teeth on the retainer set up a strut action that resists any loosening or back-off rotation.
Bolt Retainers are easily installed with a standard nutsetter (magnetic if desired), or with a simple, easily made, push-on tool.
Inch
| PALNUT# | CREST # | SCREW SIZE | O.D. | MATERIAL THICKNESS |
| --- | --- | --- | --- | --- |
| PT138055 | | #6 | 11/32 | 0.01 |
| PT164006 | | #8 | 3/8 | 0.01 |
| PT164008 | | #8 | 1/2 | 0.01 |
| PT190007 | | #10 | 7/16 | 0.012 |
| PT250008 | PB25050-10 | 1/4 | 1/2 | 0.01 |
| PT312010 | PB31262-13 | 5/16 | 5/8 | 0.013 |
| | PB31262-18 | 5/16 | 5/8 | 0.018 |
| PT375125 | PB37578-15 | 3/8 | 25/32 | 0.015 |
| PT438135 | | 7/16 | 27/32 | 0.015 |
| PT500015 | | 1/2 | 15/16 | 0.015 |
| PT562157 | | 9/16 | 63/64 | 0.015 |
Metric
| PALNUT# | CREST # | SCREW SIZE | O.D. | MATERIAL THICKNESS |
| --- | --- | --- | --- | --- |
| PT040010 | PBM495-10 | M4 | 3/8 | 0.01 |
| PT050011 | | M5 | 7/16 | 0.012 |
| PT060013 | PBM6129-10 | M6 | 1/2 | 0.01 |
| PT060016 | PBM6160-10 | M6 | 5/8 | 0.01 |
| PT630013 | PBM63127-10 | M6.3 | 1/2 | 0.01 |
| PT080016 | | M8 | 5/8 | 0.013 |
| PT100020 | | M10 | 25/32 | 0.015 |
| PT120021 | PBM1221-15-1 | M12 | 27/32 | 0.015 |
| PT140025 | PBM1425-15 | M14 | 1 | 0.015 |