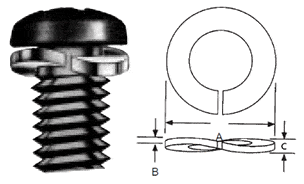 The unique Spak Washer is available preassembled to virtually any type of screw. The Spak Washer adds the reactive tension and torque absorption qualities of the wave or spring washer to the sustaining locking tension of the split lock washer.
The Spak Washer is produced as a split washer and is then stamped to form a wave. Because of their ability to absorb shock and vibration, Spak Washer Sems are the lock washer assembly of choice on Asian designed electronic and automotive assemblies. They are used by U.S.-Asian transplant automotive and electronics manufacturers and Tier 1 subsuppliers to these industries. They function well in limited space applications. With a virtually scrapless manufacturing process, Spak washers are relatively low cost.
SCREW
SIZE
OUTSIDE
DIA. A
THICKNESS
B
FREE HEIGHT
(APPROX.) C
M3″
0.224
0.024
1.1
M4″
0.278
0.028
1.3
M5″
0.345
0.035
1.6
M6
0.439
0.043
2
M8
0.555
0.112
2.4
M10
0.687
0.13
2.7
M12″
0.799
0.152
3.3
*These sizes available on application.
Inch sizes also available on application.
Note: Termi-lox®, Rokit™ and SPAK™ are registered trademarks of Illinois Tool Works Incorporated.