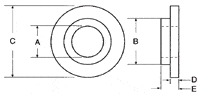 MIL-M-38527/09 series washers are frequently used as mounting pads for electrical/electronic com­ponents and hardware made from PTFE/polytetrafluoroethene or Polyphenylene Sulfide.
MIL-W-45595 – The shoulder washers/bushings in this series are made from Polymide (Natural Nylon) as per ASTM-B16. Shoulder washers made from Natural Nylon are used frequently with insulating screws, studs and rivets in transformers, appliances, automotive electrical parts and radio and TV components.
94V2 rated shoulder washers, tubular spacers and molded flat spacers are available in customer-specified materials. These spacers seal, absorb vibration, act as component guides and are available in hundreds of length and diameter combination, just some of which are listed here.
Screw
Size
"A"
I.D.
"B"
Shoulder
O.D.
"C"
O.D.
"D"
Washer
Thickness
"E"
Overall
Thickness
Material
ALTERNATE
Ref. No.
0
0
0.189
0.382
0.076
0.074
NYLON
0
0.062
0.1
0.38
0.05
0.84
PTFE
1
0.085
0.13
0.188
0.065
0.094
NYLON
5607-3
1
0.09
0.125
0.248
0.03
0.05
NYLON
5607-4
2
0.091
0.155
0.255
0.05
0.07
FIBRE
2
0.093
0.122
0.218
0.025
0.087
NYLON
M45595/1-01
2
0.093
0.152
0.218
0.062
0.087
NYLON
9111-2763
2
0.094
0.185
0.255
0.045
0.055
NYLON
5607-8
2
0.095
0.148
0.22
0.06
0.088
NYLON
3
0.11
0.166
0.25
0.03
0.103
NYLON
3
0.112
0.14
0.28
0.042
0.125
POLY.
M38527/09-002S
3
0.112
0.15
0.28
0.042
0.125
POLY.
M38527/09-004S
3
0.112
0.15
0.28
0.042
0.185
POLY.
M38527/09-003S
3
0.114
0.15
0.312
0.045
0.145
NYLON
5607-44
3
0.114
0.15
0.312
0.048
0.083
NYLON
3
4
0.115
0.136
0.2
0.03
0.06
PTFE
5608-72
4
0.115
0.125
0.235
0.046
0.14
PTFE
401352-04
4
0.115
0.187
0.25
0.04
0.073
FIBRE
4
0.115
0.186
0.278
0.039
0.08
NYLON
4
0.116
0.143
0.21
0.034
0.075
NYLON
5607-45
4
0.116
0.15
0.25
0.02
0.05
NYLON
M45595/1-02
4
0.118
0.137
0.25
0.036
0.106
NYLON
5607-50
4
0.118
0.15
0.25
0.046
0.091
PTFE
5608-9
4
0.118
0.145
0.28
0.047
0.031
POLY.
M38527/09-006S
4
0.118
0.187
0.281
0.04
0.08
NYLON
SW4
4
0.12
0.15
0.254
0.055
0.143
NYLON
5607-53
4
0.12
0.187
0.28
0.039
0.078
NYLON
4
0.12
0.194
0.315
0.034
0.064
PHENOLIC
5605-20
4
0.122
0.187
0.281
0.04
0.08
PTFE
M45595/2-04
4
0.123
0.199
0.283
0.045
0.295
NYLON
SW283199123
4
0.124
0.195
0.308
0.04
0.06
NYLON
4
0.125
0.14
0.252
0.05
0.142
NYLON
0101142-001
4
0.125
0.25
0.562
0.185
0.243
PTFE
5608-14
5
0.136
0.187
0.313
0.059
0.093
FIBRE
5604-84
5
0.137
0.183
0.319
0.05
0.08
FIBRE
5
0.138
0.218
0.345
0.06
0.117
NYLON
6
0.14
0.187
0.25
0.031
0.093
NYLON
M45595/1-03
6
0.14
0.17
0.298
0.05
0.165
NYLON
6
0.14
0.215
0.325
0.04
0.08
NYLON
6
0.14
0.204
0.328
0.031
0.093
NYLON
M45595/1-04
5
0.14
0.2
0.328
0.03
0.08
FIBRE
5604-16
6
0.14
0.24
0.375
0.031
0.093
NYLON
M45595/1-05
6
0.14
0.248
0.349
0.047
0.109
NYLON
SW349047248
6
0.14
0.238
0.375
0.06
0.09
NYLON
6
0.14
0.21
0.375
0.048
0.072
PHENOLIC
5
0.141
0.182
0.312
0.055
0.078
FIBRE
5
0.141
0.182
0.312
0.03
0.078
FIBRE
5604-14
5
0.141
0.203
0.375
0.047
0.078
FIBRE
210-0835-00
6
0.144
0.177
0.312
0.047
0.031
POLY.
M38527/09-005S
6
0.145
0.22
0.33
0.04
0.087
NYLON
6
0.146
0.19
0.312
0.047
0.031
POLY.
M38527/09-001S
6
0.15
0.25
0.355
0.04
0.13
NYLON
SW355040250
6
0.157
0.217
0.472
0.079
0.276
NYLON
MSW1224555R
6
0.157
0.236
0.472
0.079
0.276
NYLON
MSW122456
6
0.159
0.194
0.393
0.047
0.109
NYLON
SW393194159
6
0.165
0.255
0.38
0.033
0.068
FIBRE
8
0.166
0.25
0.38
0.065
0.1
FIBRE
8
0.166
0.245
0.438
0.06
0.085
FIBRE
8
0.167
0.246
0.375
0.031
0.093
NYLON
M45595/1-06
8
0.168
0.205
0.345
0.062
0.107
NYLON
6
0.168
0.255
0.375
0.035
0.07
NYLON
5607-18
8
0.17
0.25
0.375
0.062
0.1
FIBRE
8
0.171
0.25
0.375
0.032
0.063
FIBRE
5604-18
8
0.172
0.312
0.5
0.078
0.218
NYLON
SW500078312
8
0.174
0.25
0.375
0.05
0.1
NYLON
SWB8
8
0.19
0.24
0.375
0.03
0.062
FIBRE
5604-91
8
0.193
0.257
0.375
0.031
0.062
NYLON
M45595/1-07
8
0.193
0.257
0.375
0.043
0.078
NYLON
M45595/1-08
8
0.193
0.25
0.375
0.034
0.08
NYLON
8
0.193
0.252
0.375
0.042
0.064
FIBRE
5604-21
8
0.194
0.24
0.437
0.062
0.093
NYLON
SW437062240
8
0.194
0.25
0.375
0.047
0.1
NYLON
M45595/1-09
10
0.195
0.236
0.34
0.042
0.225
NYLON
90713411
10
0.196
0.303
0.44
0.04
0.181
NYLON
SW440032303
10
0.196
0.308
0.375
0.031
0.093
NYLON
M45595/1-10
10
0.196
0.25
0.437
0.027
0.062
FIBRE
210
10
0.196
0.254
0.38
0.065
0.19
NYLON
SW380065254
10
0.196
0.255
0.438
0.032
0.062
FIBRE
5604-54
10
0.196
0.264
0.38
0.197
0.317
NYLON
SW380197264
10
0.196
0.277
0.5
0.125
0.312
NYLON
SW500125277
10
0.196
0.3
0.581
0.12
0.278
NYLON
SW581196300ZZ
10
0.196
0.303
0.44
0.04
0.181
NYLON
SW440032303
10
0.197
0.24
0.408
0.062
0.249
NYLON
SW408240197
10
0.2
0.275
0.375
0.03
0.06
PTFE
5608-21
10
0.2
0.282
0.44
0.05
0.1
NYLON
10
0.2
0.25
0.44
0.04
0.075
FIBRE
10
0.205
0.303
0.375
0.043
0.127
PTFE
5608-23
10
0.215
0.238
0.408
0.062
0.256
NYLON
SW408215238
1/4
0.25
0.37
0.6
0.125
0.25
NYLON
SW600125370
1/4
0.25
0.275
0.377
0.048
0.098
NYLON
1/4
0.25
0.312
0.5
0.031
0.068
NYLON
M45595/1-11
1/4
0.25
0.308
0.5
0.031
0.093
NYLON
M45595/1-12
1/4
0.25
0.312
0.5
0.03
0.1
FIBRE
210-0904-00
1/4
0.25
0.432
0.625
0.027
0.089
NYLON
1/4
0.25
0.5
0.75
0.125
0.187
NYLON
SW750125250
1/4
0.255
0.322
0.625
0.062
0.249
NYLON
SW625322255
1/4
0.255
0.31
0.51
0.062
0.203
NYLON
SW510308255
1/4
0.255
0.31
0.75
0.03
0.057
NYLON
1/4
0.255
0.365
0.5
0.031
0.219
NYLON
SW500031375
1/4
0.255
0.372
0.55
0.062
0.484
NYLON
SW550375255
1/4
0.256
0.355
0.437
0.06
0.169
NYLON
SW437060355
1/4
0.257
0.422
0.57
0.135
0.235
NYLON
SW570135257
1/4
0.26
0.34
0.525
0.057
0.105
NYLON
1/4
0.265
0.365
0.5
0.031
0.093
NYLON
M45595/1-14
1/4
0.285
0.375
0.562
0.05
0.08
FIBRE
5604-30
1/4
0.287
0.375
0.555
0.05
0.08
NYLON
5607-30
1/4
0.29
0.387
0.562
0.031
0.078
NYLON
M45595/1-15
1/4
0.29
0.375
0.562
0.029
0.08
FIBRE
5604-30
1/4
0.29
0.375
0.562
0.045
0.08
FIBRE
5604-30
1/4
0.291
0.35
0.56
0.033
0.065
NYLON
1/4
0.308
0.35
0.428
0.125
0.172
NYLON
SW428125350
5/16
0.315
0.394
0.555
0.062
0.065
NYLON
5607-40
5/16
0.316
0.355
0.61
0.063
0.19
NYLON
5/16
0.316
0.502
0.62
0.06
0.21
NYLON
SW620210316
5/16
0.317
0.432
0.625
0.05
0.112
NYLON
M45595/1-16
5/16
0.317
0.371
0.75
0.05
0.081
NYLON
M45595/1-17
5/16
0.32
0.36
0.62
0.062
0.687
NYLON
SW620062625
5/16
0.32
0.36
0.62
0.062
0.437
NYLON
SW6200625375
5/16
0.32
0.405
0.625
0.066
0.205
NYLON
SW625066405
3/8
0.358
0.482
0.748
0.059
0.236
NYLON
SW748482358
3/8
0.375
0.5
0.625
0.065
0.105
FIBRE
3/8
0.375
0.5
0.625
0.055
0.091
FIBRE
3/8
0.375
0.5
0.75
0.031
0.093
NYLON
M45595/1-18
3/8
0.375
0.5
0.75
0.07
0.1
FIBRE
3/8
0.38
0.5
0.7
0.038
0.068
PHENOLIC
3/8
0.38
0.505
0.75
0.125
0.485
NYLON
SW750125500
3/8
0.383
0.5
0.625
0.06
0.09
NYL0N
3/8
0.385
0.5
0.625
0.031
0.075
NYLON
M45595/1-20
3/8
0.385
0.5
0.625
0.025
0.075
FIBRE
5604-32
3/8
0.385
0.5
0.625
0.031
0.093
NYLON
M45595/1-19
1/2
0.5
0.625
0.75
0.068
0.095
PHENOLIC
1/2
0.5
0.625
0.765
0.032
0.065
NYLON
1/2
0.525
0.59
0.8
0.045
0.062
PTFE
5608-36
9/16
0.6
0.375
0.562
0.027
0.065
NYLON