Ideal for applications with a drilled or punched hole. A pin, part of the grommet, expands the prongs of the grommet as it is driven into the hole. This provides friction between the grommet and the inside of the hole, retains the grommet in the hole and prevents the screw from rotating in the hole after it's been driven. As the screw is driven, it pushes the pin ahead of it, expanding the prongs still further and locking the grommet securely in the hole.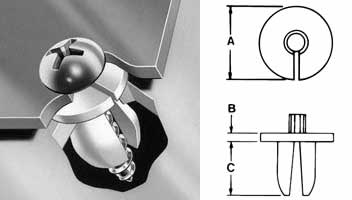 PART NUMBER
PANEL HOLE SIZE*
PANEL THICKNESS RANGE
SCREW SIZE
HEAD SIZE
A
HEAD HEIGHT
B
PRONG LENGTH
C
212-250301-00
.248-.265 DlA.
.020-.250
8
.490-.510
.050-.070
.370-.390
*Panel hole size varies dependent upon panel thickness.
NOTE: Dimensions listed are nominal.