One-piece LED retainers snap in easily to standard panel holes, either flush or counterbored. No additional retaining rings or installation tools are required. Provide secure, attractive display of standard LED's (T-1¾).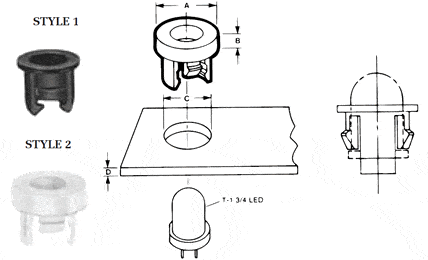 PART NUMBER
HEAD DIA.
A
HEAD HT.
B
HOLE SIZE
D
PANEL RANGE
D
PRONG
LENGTH*
STYLE
275-283047-00
0.312
.020-.030
.240-.247
.065-.075
.225-.255
1
1917-00
0.375
.095-.105
.281-.287
.044-.048
.205-.215
2
*Measured from underside of head to end of longest prong.
NOTE: Dimensions listed are nominal.